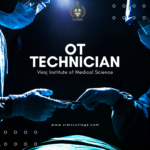 Overview of Operation Theater Technician Course
Operation theater technicians play an integral role in the operating room, ensuring surgeries run smoothly and safely. To meet these demanding responsibilities, aspiring operation theater technicians must have access to comprehensive training that prepares them for their future careers. An Operation Theater Technician Course provides learners with the expert skills they need to excel in this field.
This course exposes students to the fundamentals of perioperative nursing, providing them with a strong foundation of knowledge and experience. Through interactive lectures and hands-on classes, students explore topics such as surgical anatomy and physiology, aseptic technique and sterilization practices, equipment setup for various procedures, patient preparation for surgery, postoperative care planning and management of emergency situations. By completing this coursework successfully, graduates are well-prepared to take on entry-level roles in the healthcare industry.
Benefits: Professional Development
Professional development is a great way to enhance your skills and learn new ones. An Operation Theater Technician Course is one of the most popular and effective options available, allowing you to acquire expert-level knowledge and abilities.
This course focuses on developing essential skills in areas such as anatomy, medical terminology, pharmacology, surgical techniques, sterilization techniques and patient care. You'll also gain insights into how an operation theater runs in order to become proficient in operating it efficiently. With this comprehensive program you'll be able to develop both practical and theoretical knowledge which will help you excel in your career.
You'll also receive ongoing support from instructors so that any questions or issues can be resolved quickly in order to keep learning at a steady pace. The course provides ample opportunity for personal growth and professional advancement that could lead to rewarding job opportunities available within the health care industry.
Conclusion: Invest in Expert Skills
For those that have a passion for the medical field, investing in an Operation Theater Technician course is a great way to jumpstart your career. Not only can it help you stay up-to-date on the latest medical trends and techniques, but it also provides hands-on training in a variety of clinical areas. In conclusion, investing in expert skills through an Operation Theater Technician Course is sure to pay off both financially and professionally.
This comprehensive course offers students the opportunity to gain knowledge and develop critical skill sets related to patient care. It covers topics such as anatomy and physiology, surgical procedures, instrumentation, sterilization methods and more. Upon successful completion of this program, students will be prepared to effectively carry out their responsibilities as an Operation Theater Technician in any health care setting.